Fellowship has ten staff members and is led by an elder board comprised of six laymen. We are excited about the direction of Fellowship and know that God is preparing us for wonderful things ahead.
Our leadership team is supported by a wonderful group of volunteer ministry team-leaders, community group leaders, and coaches. We are big fans of team-based ministry. We believe the burdens and blessings of ministry should be shared, and we should all participate in the work and the rewards of serving God's kingdom. Now, let's introduce you to our staff!
Doug
Grimes
Lead Pastor
---
Doug received his undergraduate degree in Speech Communications from the University of Montana. Upon graduation, he joined the staff of Campus Crusade for Christ and served at the University of Utah and Kentucky for eleven years. During that time, Doug also received his Master of Divinity from Asbury Theological Seminary. Doug brings 36 years of ministry experience to Fellowship as well as his passion for reaching people with the Love of Christ and teaching the Word in relevant and practical ways.
Doug met his wife, Susan, while ministering on staff with Campus Crusade. They have been married 35 years and have three grown daughters, Katie, Beth, and Sarah, and a dog. Doug and Susan speak nationally with Family Life Ministries, seeking to equip marriages with God's plan.
In his spare time, Doug enjoys working out, golfing, fishing, and anything else one can do outdoors.
To contact Doug, click here.
Tyler
Blackburn
Associate Pastor
---
Tyler received his undergraduate degree in Psychology from Kansas State University in 2012. After graduation, he spent a year at the Kanakuk Institute, a discipleship program in Branson, Missouri. Upon graduation from the Institute, Tyler moved to Dallas, Texas to study at Dallas Theological Seminary. In May of 2016, Tyler received a Master's of Christian Leadership from DTS. Tyler is passionate about seeing others grow in their relationship with Christ through biblical study, theological training, and a substantive prayer life.
Tyler and his wife Lexis were married in March of 2014. The couple met while working as counselors at Kanakuk Kamps during college. In August of 2015, Tyler and Lexis moved to Searcy so Lexis could begin the Doctorate of Physical Therapy Program at Harding University. Tyler and Lexis are thankful for the move to Searcy and the opportunity to be a part of the community at Fellowship.
In his spare time, Tyler enjoys creating memories with his wife, officiating high school sports, and activities that take him outdoors.
To contact Tyler, click here.
Emily Wright
Children's Pastor
---
Emily was born and raised in the beautiful city of Nashville, TN. She is graduating from Harding University, here in Searcy, with a degree in Bible and Family Ministry with a focus in children's ministry. Emily has been our intern in Fellowship Kids will be transitioning to the full time Children's pastor in late May. She has an interest in continuing her education by getting her masters at some point in the future. Emily has a passion for children to learn about the Lord in new and exciting ways and to grow into a personal relationship with Him.
Emily is not married but hopes to one day have a family. Right now she settles for being an aunt to her six nieces and nephews. She also hopes to be a dog mom in the near future.
In her free time Emily enjoys reading, baking, taking walks, and most importantly spending time with friends and family.
To contact Emily, click here.
Ben
Pukas
Student Pastor
---
Ben was born in the amazing city of Tampa, Florida where he was raised and received a love for the beach and the outdoors. He ended up staying in Tampa to get his degree in finance and economics at the University of South Florida, and to this day remains a die-hard Bulls fan. During his time at USF, he felt God calling him away from the business world and into the ministry world. Ben became a student pastor for Grace Community Church in Brandon, Florida, and a year and a half later moved to Dallas, Texas to be trained in the fellowship at Watermark Community Church for 10 months. Ben has a huge heart for students and for them to see that the abundant life is found in a relationship with Jesus Christ and that following Him can be fun and fulfilling, not boring and restricting.
Ben is not married but hopes to one day have a family. He has a German Shepherd puppy, and she is like his child, and as such, is his family.
Ben loves playing and watching sports of all kinds, but doing things with people is what gives him the most joy. Whether watching movies (favorite movies are The Notebook and Remember the Titans), playing games or sports, or just talking, it doesn't matter as long as he's with the people he loves.
To contact Ben, click here.
Josh
Starks
Worship Pastor
---
Josh was born and raised here in Searcy, AR, and has a love for this community. He began leading worship in high school for a local parachurch youth ministry and quickly discovered a deep passion for worshipping God and leading others to do the same. This passion developed more over time as he had the opportunity to lead as a volunteer at a local church for seven years and at other local gatherings throughout the years. He believes that Jesus is simply worthy of our worship at all times, that it's possible to exalt Him in the midst of the problems we all experience in life, and that we were even made for this.
After graduating with a degree in Information Science from the University of Arkansas at Little Rock, he worked for several years in the technology sector for a couple of corporations and a tech start-up. After the last corporate venture of working for Chick-fil-A, Inc. in Atlanta, GA, he and his family were thrilled to return to Searcy for him to join staff at Fellowship.
Josh married the love of his life, Leah, in 2007. They now have three beautiful children: Hosea, Everett, and India.
In his spare time, Josh enjoys conversing with friends over a really good cup of specialty coffee, reading, running, Fall weather, and going on dates with his wife.
To contact Josh, click here.
Chris
Massey
Operations Pastor
---
Chris was born and raised in Sunny Florida and where he received his undergraduate degree in Communications from The Florida State University. After graduation, he interned with the student ministry at Biltmore Baptist Church in Asheville, NC. He then attended Kanakuk Institute, a year long youth ministry training program. Upon finishing with Kanakuk he joined the staff of K-Life Ministries and served in Harrison, Arkansas for three years. During that time, Chris also received his Master of Arts in Youth and Family Ministries from John Brown University. Chris brings 15 years of ministry experience to Fellowship as well as a passion for students in the Searcy area, reaching people where they are, and sharing the Love of Christ with them.
Chris and Jen were married in August 2009. Chris and Jen met while he was on Staff for K-Life in Harrison and she was a volunteer with Searcy K-Life. Chris and Jen have been blessed with three beautiful daughters, Stella Kate, Wallace and Ada.
In his spare time, Chris enjoys wood-working, sports, working out, and anything having to do with FLORIDA STATE.
To contact Chris, click here.
Courtney Dawson
Local Outreach Pastor
---
Courtney Dawson was born and raised in McRae, Arkansas. Growing up, she attended church but did not have a real passion to surrender her life to Jesus. That all changed when she and her husband, Rodney, had their first daughter. God gave Courtney a clear message at that time, "You can't give her what you don't have.", and she knew that she wanted her daughter to grow up personally knowing the One who created her and loved her. She received Jesus' grace and was blessed to be mentored by women in her local church who fostered in her a love for studying and teaching God's Word and a love for serving people.
Since then, she has spent the last 20 plus years teaching ladies bible classes, leading ladies' retreats, organizing VBS, leading food ministries and service projects, coaching her daughters' basketball teams for 10 years, and volunteering with her family at the local nursing home for 10 years.
Courtney is passionate about discipleship and showing compassion to those that are hurting, overlooked, and ignored.
In her spare time, she enjoys hiking, kayaking, reading, watching movies, and enjoying good food with friends and family. Courtney lives next to her in-laws' cattle farm in Judsonia, Arkansas, with her husband Rodney and their two girls, Rachel and Anna.
To contact Courtney, click here.
Amie White
Global Outreach Pastor
---
Amie and her family (husband John and 3 girls) have attended Fellowship for the past 6 years. During that time she has volunteered in various roles including the Care Teams Ministry. Amie and her family attended Perspectives in the Spring of 2021 and have been forever changed.
Before coming to Fellowship Amie received an undergraduate degree in Environmental Studies from the University of the Ozarks, a Master's of Nonprofit Management from Oral Roberts University, and a Master's of Christian Education from Asbury Theological Seminary. She is a graduate of the Focus on the Family Institute and has held multiple ministry internships.
In her spare time, Amie enjoys learning, gardening, browsing antique stores, and going on adventures with her family.
To contact Amie, click here.
Kathryn Kidd
Ministerial Assistant
---
Kathryn was born in Pontiac, Michigan and raised in Arkansas. Kathryn and her husband Mike have worked in ministry for over 20 years. Mike pastored for many of those years and Kathryn worked with the children, taught Sunday school, and organized vacation bible schools. Kathryn has worked in retail for the past 28 years as well as a small direct sales business where she leads a group of women.
Kathryn and Mike have been married 31 years. They have one son, Michael, Michael's wife Brianna, and 4 delightful grandchildren. Kathryn has many things that she enjoys doing. At the top of her list are spending time with family, serving the church, reading, watching movies, listening to music, and watching football.
To contact Kathryn, click here.
Jasmine Harris
100 Families Case Manager
---
Jasmine was born and raised in Poplar Bluff, Missouri. She graduated from Three Rivers College in 2018 with an Associates Degree in General Education. She moved to Searcy in 2021 and began attending Fellowship.
Jasmine is not married but does hope to be with kids one day. She enjoys being an Aunt/God-mom to 10 kids. In her free time, she enjoys singing, painting, exploring nature, and spending time with family.
To contact Jasmine, click here.
Kimberly
Holloway
Custodian
---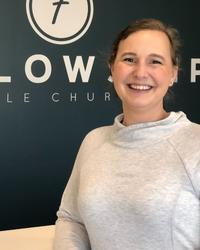 As our Custodian, Kimberly always makes sure that our building looks great, that our Worship Center is ready for service and our flex rooms are ready for classes, meetings and other events that happen throughout the week. She says cleaning is her happy place.
Kimberly was born and raised in Searcy, Arkansas. Kimberly has one son, Logan who is a great source of joy! Kimberly enjoys spending time with Logan and her mom and dad, gardening, reading, baking, having dinner with friends, and attending worship service.
Mary
Best
Accountant
---
As our Accountant, Mary always makes sure that our church is financially taken care of and that our field workers are funded.
Mary was born in Illinois and has traveled and lived in many different places around the US as well as in the Caribbean. She has been widowed for almost 10 years and moved to Searcy in 2015 to be near her in-laws and family. Mary enjoys her community group, spending time with family and friends, reading, crocheting and being "Aunty" Mary to many.
Board of Elders